About Us - 2009
About Us - 2005
Happy 14th Anniversary to Us, One and All!
When we published the first official alumni web site, AnkaraReunion.com, in 1999, we had to rely on word of mouth for alumni to find us. Search engines were available (Top three: AltaVista, HotBot and Northern Light) but they did not have the technical sophistication that is available today. A search for "Ankara High School" may not have provided any results. Plus, approximately 3.6% of the world population was using the internet in 1999 as opposed to the 34.3% who use it today.
It was not unusual during that time to help old friends connect that had not seen or spoken to one another for decades, Ankara Reunion 2000.

We had to to mindful of the size of our files. While cable and DSL were becoming available, most people using the internet had dial-up. The number and size of photographs that we posted to the site had to be small.

Two Old Friends--
Rick Donohoe and Rich Biasetti, were best friends when they graduated from Ankara High School in 1962. Both joined the U.S Marines upon returning to the United States. In July 2000, they met for the first time in four decades in Dallas, Texas.
To imagine a web site dedicated to Ankara yearbooks was unthinkable. On April 9, 2011, Citadel 2006 was uploaded to e-Citadel.com, completing the 58-book collection. This Herculean effort by Sheila Weaver '67, is unparalleled by any other alumni group. We are currently re-scanning some yearbooks because the quality of scanners has improved and faster download speeds has allowed us to increase file sizes for better viewing quality.
Before & After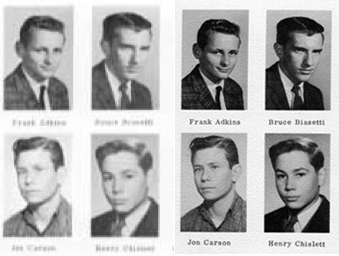 The Senior and Faculty pages have been indexed in most yearbooks. But we would like to index every page of every yearbook allowing the e-Citadel search engine to find everyone who has been in an Ankara yearbook. If you would like to help with this effort, please contact us.
We changed our name to AnkaraHighSchoolConnections.net in 2005 and introduced a brand new format which allowed you to send email through the site without revealing the recipient's email address. For the first time, classes above 1979 were included in the database. With your support and encouragement we have done nothing but grow since our initial presence on the internet 14 years ago.
January 1999
January 2013
Sections
5
16
Email Addresses

139
(None above class 1979)
1828
Hit Counter
0
107,571
Avg. Hits Per Month
100
9-10,000
States
48
50
Photographs
65
300+
Yearbooks Online
0
58
Cell Phone Database
No
Yes
Facebook Group
No
Yes
Check out what we looked liked 14 years ago at the Internet Archive: Wayback Machine. On this site you can browse over 150 billion web pages archived from 1996 to a few months ago.
The high point of the 2012 would have to be Ankara Reunion 2012. Kathy Barrett (Peters) '74 organized a well attended reunion, the first in seven years, in Washington, D. C. Over 200 people attended, some traveling from as far away as Panama, Thailand and Israel.
There are rumblings from alumni in Dallas and San Diego that it is time to start planning a gathering. As you can see by our database stats, Florida, California and Texas are great states to hold an Ankara reunion.
States most highly populated by alumni
FL
VA, MD, DC
CA
TX
WA
GA
15%
14%
13%
12%
4.4%
3.7%
Thank you for visiting the site and supporting our efforts for 14 years. With the advent of social media, we wondered if there was a place for us in the Internet of today. With your suggestions and tracking the site statistics, we have evolved to meet your needs and offer you a personalized touch that no commercial site can provide. Express your support by updating contact information regularly using our DataBase Registry, sending us photographs and sharing your Life Events with us and continuing to organize skinny minis on up to major reunions.