What is a micro reunion?
It's a small group of (George C. Marshall High School/Ankara High School) alumni getting together, usually on short notice, to enjoy the company of someone who understands the Turkish experience. The spontaneous nature of these reunions and the ability to make plans, on short notice, is what it's all about.
Use our Registry Search function to find someone that lives close to you, send them an email and get connected.
2014


Anita's Back Porch
May 6, 2014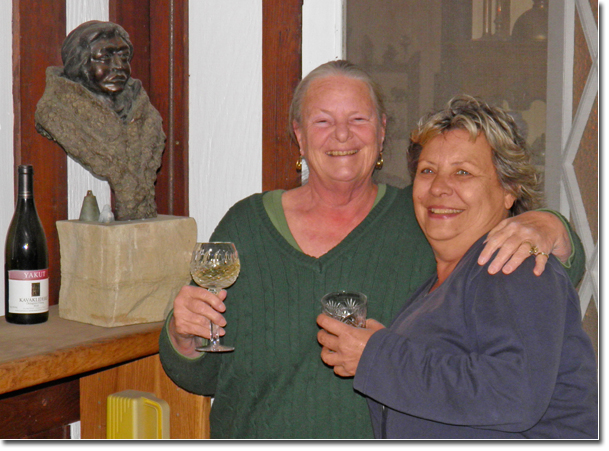 A year ago, we were sitting down for dinner when Alara decided to arrive early. She decided she wanted to be born in Santa Barbara! At long last, Sue Girginkoc (Onat) '74, her husband Sefik, and their friends Sebnam & Tolga brought year old Alara for an early evening visit. We had to wait a year, but it was well worth it!
The sculpture next to Anita Donohoe '66 was done by Tim Gifford '76. He named her Eve, as she was his first female face. Anita calls her Sacajawea.
2013


A Couple of Girls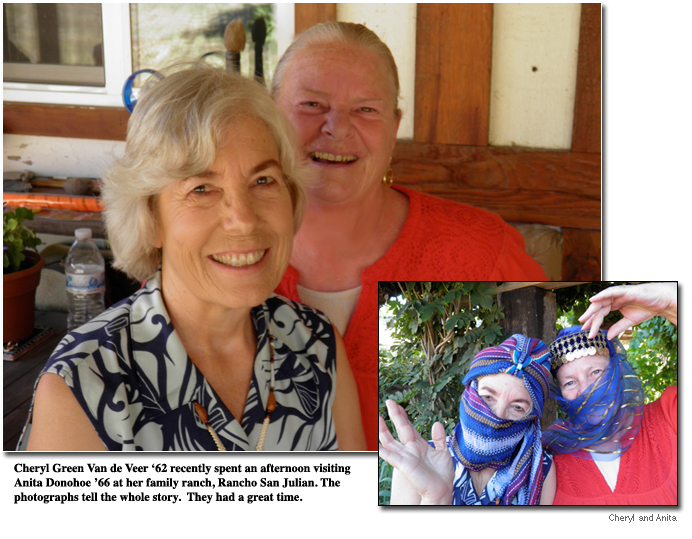 A Couple of Guys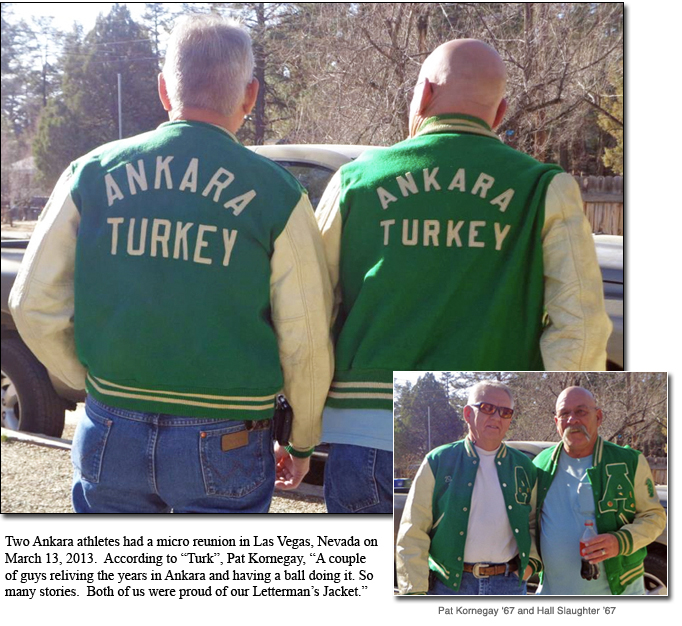 Rancho San Julian, California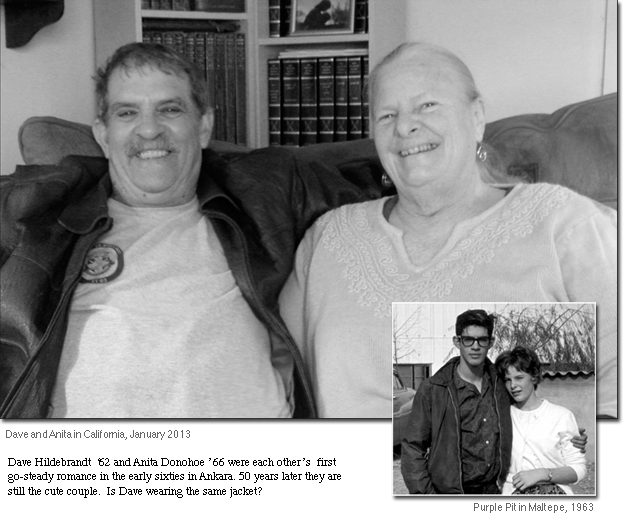 2011


34-Year Reunion
Charleston, S.C.
January 15, 2011
Michael O'Brien and Darryl Bryant



Michael O'Brien 79 and Darryl Bryant 79, best friends from GCMHS, have spoken on the phone and emailed frequently since the 1990's, but they hadn't seen each other since Darryl and his family shipped out for the States, 34 years ago. On Saturday, January 15, 2011, they met up in Charleston, S.C. for dinner and a night out on the town. The next day they toured historic Charleston and made a pact to come back VERY soon with their wives. Darryl and his wife have already made plans to visit Michael.

According to Michael, "It was as though we had just seen each other yesterday."
2010


Bosphorous Restaurant
Winter Park, FL
October 25, 2010

Tony Ferguson 86, Inci Smith 85 and Jeff Ferguson 84 had a great time.
Sylvia Adkison Brewer 60, Carole Walther Jakubczak 60, Jake Jakubczak

St. Louis Mini
September 11, 2010

Carole and Jake went to St Louis for one of his squadron reunions, and Sylvia drove 100 miles to meet them on 9/11/2010. They had a wonderful catch-up lunch together!
George C. Marshall HS
April 2010

"Here is a pic of the two student revolutionaries standing in front of the main door to George C. Marshall High School in late April. We graduated in 70. Dan and Debi were wonderful hosts to my wife, Sue, and me. We spent three amazing weeks in Turkey."

Photo and narrative submitted by Tom Bohnhorst 70


Photo, left to right:
Dan O'Grady 70 and Tom Bohnhorst 70
2008





Vicki Buettell 61 and Anita Donohoe 66

Jalama Beach, CA
March 1, 2008

Vicki and Anita at Jalama Beach on Saturday, the 1st of March 2008. Photo by Vicki's husband Roy. Vicki and Roy visited Anita at Rancho San Julian during a scout of the route for their upcoming December Coach Rally. The 10 or so coaches participating in the rally are 45+ foot motor homes the size of Greyhound buses.

2007





Silicon Valley, California
November 3, 2007

Steve and Kay had a great time sharing memorial stories mixed with lots of laughs. They dined Italian at Carpaccio and topped it off with yummy desserts.


Steve Reich 62, Kay Duncombe 62

Barry Blaisdell 61, Kay Duncombe 62

Austin, TX
Salt Lick Restaurant
September 29, 2007

Barry and Kay met in Austin, TX to celebrate Kay's 63rd birthday. Kay's 83-year old mother joined them. She and Barry were good friends in Ankara.

Barry brought roses for all the ladies.
Denver International Airport
September 18, 2007

Alice met Anita at the gate in the Denver airport and
the two of them headed to the bar. Anita was on her
way home from a week long vacation with Jill Park
(Doyle) 71 in Montana. Alice used the perk of her
security badge to greet Anita at the gate, and the
two of them spent a couple of hours visiting over
drinks.

Anita Donohoe 66; Alice Ferrell (Chavez) 76
Cape Canaveral, FL
March 2007

Holly & Judy are touring the Florida coasts. While in Florida, they had dinner at Sally's place.

Holly Jackson 62, Sally Vangsness (Gorham) 60, Judy Jackson
2006


New Orleans, LA
October 7, 2006
Byblos

Gordy was there for work and Barbara was volunteering.

Gordy Welch 76 Barbara Burch 73
Turkey Chicks

Orlando, FL
October 4, 2006



Paula Klingensmith 74 Deenise Bryant 74
Susan Curran 72
Sherie Klingensmith 76

North Carolina
October 1, 2006

This micro is the first time that Melinda and Judy had seen each other in 38 years.

The picture is taken at the family home of Mary Boykin Chestnut of Ken Burn's Civil War fame.This incredible house built in1820 and is filled with antiques, wonderful letters and portraits, etc.

Judy Thomas (Henry) 65
Melinda Miller (Collins) 65
Winter Park, FL
August 24, 2006

Susan Curran 72
John Henry 72
Barbara Burch 73
Jefferson, IN
August 11, 2006

While in Indiana, Anita and Harvey Welch visited with Carol Baker and her husband, Ken Crutchfield, over a round of golf

Anita Welch, Harvey Welch 73, Carol Baker 73, Ken Crutchfield
Denver, CO
August 4, 2006

Bil Ingram 74, Blair Draper 73, Tim Gifford 76





Rancho San Julian, CA
July 29, 2006

Three siblings enjoy each other during a family reunion.


Joe Donohoe 60
Anita Donohoe 66
Rick Donohoe 62
Dental Office
Minden, NV
July 28, 2006

This is no doubt the worst excuse for a micro!!!

During a 5-week vacation stateside, Toni Kula 86 visited Jill Park (Doyle) 71 in northern Nevada. They have been friends for many years.

While in town, Toni, and her daughters combined a reunion with dental work.
For the very, very nervous: Toni isn't really getting a shot.

As you can see in this picture, Toni and the twins survived their "dental reunion."

Alex, Toni, Jill and Ashley
Zaytoons, Santa Barbara, CA
July 12, 2006


Charlie was working at Vandenberg AF Base for a few days and called Anita to see if they could meet for dinner. He picked Anita up at the ranch and off they headed to a fun Middle Eastern dinner at Zaytoons.

Charlie is an alumni hero. He made several of his yearbooks available to e-Citadel.com.

Anita Donohoe 66
Charlie Brown 89
A Turkish Cinco de Mayo
Near Phoenix, AZ
May 5, 2006
Carole and Jake stopped off in Arizona for few days to visit family. Kathy and Denny caught up with them in a Turkish restaurant, on Cinco de Mayo of all days. The food was okay, but the company was terrific!
Carole and Kathy looked at a photo album of memories from Turkey while the boys traded war stories. According to Denny, "A very nice afternoon. We promised each other to campaign for more mini-reunions."


Denny Flaherty, Kathy Arnold (Flaherty) 60, Carole Walther 60 (Jakubczak) 60, Jake Jakubczak
SoHo
Santa Barbara, CA
April 30, 2006

Elizabeth took advantage of an opportunity to sing at a club which featured new talent.

Anita and Elizabeth enjoyed a pre-performance dinner and laugh.

Anita Donohoe 66
Elizabeth Rutherford 60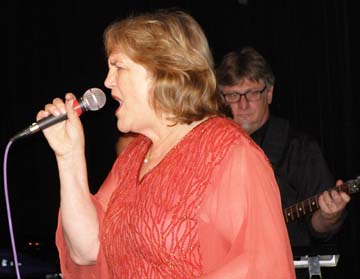 Elizabeth singing at her Breakthrough Performance.
Zaytoons
Santa Barbara, CA
April 8, 2006

Noelle Prince (Shear) 65 attended a workshop in Santa Barbara and gave Anita Donohoe 66, who lives in Santa Barbara, a call. They met and had a great dinner at Zaytoons, a middle eastern restaurant. After dinner, they went on a little driving tour of Santa Barbara.

Noelle Prince (Shear) 65
Anita Donohoe 66
Huntington Beach, CA
March 29, 2006

Steve Preston 68 lives in Gig Harbor, Washington and was sent to the Los Angeles area for a work-related conference and gave Shiela Weaver (Kenney) 67 a call. They enjoyed a walk and dinner at the Huntington Beach pier.

Shiela said, "Lots of great memories and laughs and with the serenade of the surf, it was a fun evening."
Laguna Gloria Art Museum
Austin, TX
March 23, 2006

Timmy Lee Pruett 71 and Valorie Lyng 73 attended a benefit for a friend who has cancer.
San Francisco, CA
March 19, 2006

Our reunion-hopping Anita Donohoe 66 went to the A La Turka mini and then met Melinda Miller (Collins) 65 for a drink at the British Bankers Club.
Rancho San Julian, CA
March 11, 2006

While in the area, Harry Forrest 65 took the time to visit Anita Donohoe 66 at her home. The day started off with thunder, lightning and hail. By the time Harry arrived it was cool but sunny.

Harry and Anita re-connected at Ankara Reunion 1992.

Kazan Restaurant, McLean, Virginia
February 18, 2006



Darrel and the Burch Girls
Darrel and the "girls" enjoying each other's company and some good Turkish food.

Liz Burch (Weber) 74
Darrel Smith 7,
Barbara Burch (Franklin) 73

2005


Turkish Tea Party
October 2005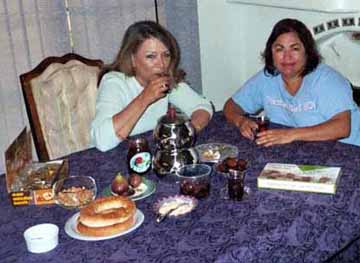 Shiela Weaver (Kenney) 67 and Mary Ellen Sanchez (Melei) 67 enjoying a Turkish Tea Party at Mary Ellen's home. According to Shiela the spread included, "Real simit, rose jelly and chai, Turkish delight, figs straight off the tree, Kalamata olives and garlic hummus, there's more but I can't remember all of it. Yum!"
Anita's Summer Adventures
Anita Donohoe visited with alumni along the California coast the of Summer 2005. In this picture, taken on June 1, 2005, she is sharing steamed mussels at the Beachside Cafe in Santa Barbara.

Several weekends later, Anita was visiting alumni in the Los Angeles area.


Julie Alpert 73, Anita Donohoe 66
and Lisa "Elizabeth" Rutherford 60

Chris Buckeye (Goss) 67, Mary Ellen Sanchez (Melei)
67, Shiela Weaver (Kenney) 67, Anita Donohoe 66

This occasion marked another exchange of yearbooks to be scanned for e-Citadel.com. Chris Buckeye 67 surprised everyone by bringing a treasure trove of Ankara memorabilia including an information booklet for dormies, puzzle ring instruction booklet, a prom dance card and map of Ankara, circa 1966.
All items can been viewed on e-Citadel.com under the Lore icon.

Anita finished her travels visiting with Yvette Jimerson 76 before she returned to Guam. This picture was taken June 13 at a restaurant close to LAX.

Photo: Yvette Jimerson 76; Anita Donohoe 66; Ashley (Yvette's charge)




- General Information
- Full Registration Form
- Express Registration Form






- Turkish Travels
- Micro Reunions
- Mini Reunions
- Major Reunions



- Upcoming Reunions
- Reunion Memories
- Ankara Reunion Attendees



- Art and Music
- Movies
- Books
- Accessories



- Commercial
- Alumni Groups
- Personal
- Turkish Fix
- Ankara Today
- Travel Tips
- Blogs & Bulletin Boards



- What Are Listservs
- Join A Listserv


- Life Events
- In Memoriam




- Turkish Dateline
- Turkish American Assoc
- Turkish Dictionary